Samstag, 07.03.2015 - Rosis Amüsierlokal Dresden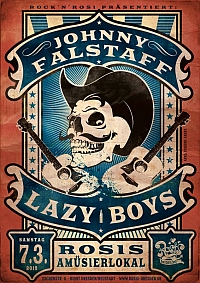 The Lazy Boys
Johnny Falstaff
22:00 Uhr
"LAZY BOYS:Where Country meets Rock'n'Roll!
Keine Frage: The Lazy Boys sind eine Borderline-Kapelle. Denn diese Band gratwandert wie kaum eine andere auf einer Grenze – und diese verläuft so ziemlich genau an jenem Punkt, an dem Johnny Cash Rock'n'Roll war und Elvis die Country Music inhalierte. Ein Punkt, an dem sich Basecap und Jacket, Stetson und Glamour treffen, an dem getanzt, gefeiert, geträumt und – wenn auch selten – gern auch mal die Line Dance aufgemacht wird...
Seit 1997 tourt die Band unentwegt europaweit durch Clubs, Festivals und Partys, spielte zwei ausgedehnte US-Tourneen, brachte mehrere Singles, EPs und Alben heraus, von denen zur Zeit gleich zwei aktuell am Markt sind: "Shadows" und "Wham Bam". – geschöpft aus einem Melting Pot, in dem Country, Rockabilly, Rock'n'Roll und Gospel-Feeling zu Hause sind, versetzt mit Wildheit, Wahnsinn a little bit of a special sense of humour.
Am Ende mündet all das in einen ureigenen Sound – dem der LAZY BOYS."

"JOHNNY FALSTAFF: Action-Star auf Bühne und Leinwand, Johnny Falstaff tourt in den USA von Küste zu Küste und durch ganz Europa.
Geboren ist Johnny in Alice,Tx in der Nähe von Corpus Christi, aufgewachsen am Stadtrand von Houston,Tx. Wo er auch seine Leidenschaft zur Musik entdeckte, mit den Einflüssen von Leuten wie Ray Price, George Jones, Al Dean und Warner Mack hat er seinen einzigartigen Stil in der Genre Ameripolitan gefertigt.
Die mit Kritik gefeierte Freigabe seiner 2008 ins Leben gerufene CD ""Honky Tonkin´Daddy"", tourte er 2 Jahre.
Die ""Live in Köln,Germany"" wurde im Jahr 2010 aufgenommen und Ende des Jahres veröffentlicht.
Falstaff nahm sich auch die Zeit, um mit seinen Künstlerkollegen Hank Schyma und John Evans, den Indie Film ""Honky Tonk Blood"" zudrehen und seit 2011 auch auf Leinwand und DVD zusehen ist.
Durch seine Europatour 2011 wurde er auch bei der ""Austrian Country Music Federation"" nominiert und gewann den Titel ""Best International Band 2011"".
2012 wurde sein Soundtrack Album ""Death Western"" veröffentlicht und Falstaff begann seine Dreharbeiten für den Western Thriller ""The Hunchback of Mexico"".
2014 eroberte Falstaff wieder einmal den American Country Music Award für ""Beste Internationale Country Band des Jahres"".
Es begannen auch die Aufnahmen seines 6.Albums ""Metro-Billy"", welches November 2014 veröffentlicht wurde.
Auch 2015 startete Falstaff mit einer Nominierung ins neue Jahr, in der Kategorie ""Best Outlaw"" , bei den Ameropoliten Music Awards, in Austin Texas."