Freitag, 15.05.2015 - Slaughterhouse Berlin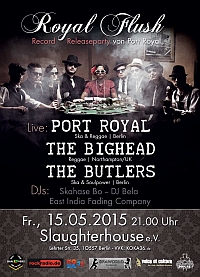 Port Royal
The Bighead
The Butlers
+ DJs: EAST INDIA FADING COMPANY & SKAHASE BO & DJ BELA - Ska, Early & Latest Reggae
AK: 14 € // VVK: 10 €
Das erste Album von PORT ROYAL - "Royal Flush" überzeugt durch mal rockige, mal melodische Musik, die den Begriff Ska mit griffigen Bläsersätzen
und einer ausgefeilten Rhythmus Gruppe ausdehnt: Neben klassischen Elementen und einem fetten Bass nutzt Port Royal im Album auch mal
überraschend gesampelte Wahlgesänge und sporadisch auch mal einen freakigen Synthesiser Sound. Dann wieder ertönt ein minutiöses Gitarrensolo.
Kein einziger Song auf diesem Album ist wie ein anderer. Nur Lady Arianes Stimme bleibt durchgehend warm und ausdrucksstark.
Wie der Namen der Band schon vermuten lässt: einfach königlich.

Sänger und Songwriter Mark DaCosta, nunmehr schon seit einem halben Jahrhundert musikalisch aktiv, lässt in seine aktuelle Band THE BIGHEAD (UK) Einflüsse von Steel Pulse bis Bob Dylan einfließen. 2008 gegründet, haben sie es bereits zu einem Album "Outlaw Verses" und ein paar besonderen Konzerthighlights geschafft: u.a. Support von Madness, Neville Staple und the Beat. Und nun also am 15.05. in Berlin, nicht verpassen!

Bereits 1986 gegründet, mit den Ärzten auf Tour, mit Dr. Ring Ding Songs produziert, immer kräftig Wind zu den jeweiligen Ska-Revivals beigetragen, mehrfach aufgelöst und bigger den je zurück gekehrt, werden die Veteranen THE BUTLERS mit aufspielen. Brassattacks, Hammonddesasters and Offbeat Backdrafts, es wird ein Wahnsinnsspaß- Ska, Soul Power!

Zwischen und nach den Konzerten werden EIFC, BELA und BO mit ihren Platten die Tanzfläche befeuern.TANZEN!