Samstag, 25.09.2021 - Alte Brauerei Annaberg-Buchholz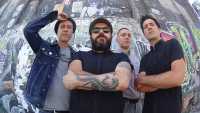 The Offenders
Skaprifischer
Raus aus mein Haus
VVK 13 €
21:00 Uhr
Mit "Class Of Nations" veröffentlichen The Offenders nicht nur ihr 8. Album mit klarer Ansage und Kante gegen gesellschaftliche Missstände geschaffen durch selbstherrliche, korrupte Menschen - es ist auch ein künstlerischer Wendepunkt. Verbinden sie auf ihrem Silberling ihren Offbeat-Trademark mit geradlinigen Streetpunk und Folk-Einflüssen.
Neben Politik und Streetlife erweitern sie den inhaltlichen Fokus auf ein ebenso wichtiges Thema: die Wonne und Begeisterung des Lebens. The Offenders starten eine neue Ära: mit Tradition, erhobener Faust, aber offenem Blick in die Zukunft.
Aus Dresden beehren uns die Skaprifischer! Als Köder werfen sie Ska, Rocksteady & Reggae im jamaikanischen Stile in den Saal.
Den Dancefloor eröffnen die Crottendorfer Raus aus mein' Haus mit straightem SkaPunk....
[mehr]